Is Gamified NFT the Future of Crypto Art? NFT Crypto Art's Bold Predictions for 2022
金色财经
view

46954
2022-1-20 09:14
In March 2021, digital artist Beeple's work sold at Christie's for nearly $70 million, bringing NFT crypto art into the art world.
Did an art experiment now entering NFT last year hit the high-speed train of the blockchain boom? What's new in NFT games? What is the development of various cryptographic arts in China? How to secure NFT assets in a crypto world where "the code is right"?
In early 2021, Liu Yiyuan, creator of the TABULA RASA site and host of the Art Youdu podcast, spoke about his own experience of transforming crypto art into digital art. . ? "
How many major events have happened over the years of NFT encryption technology? With so much information and all kinds of conflicting information, it is very difficult to identify and verify the accuracy and precision of information. At the end of the year, I talked to my friends who were learning blockchain and art, and learned that even in China, the information and interests are all different. A comprehensive report on the crypto industry, providing more explanation. Here are some good reviews.
In other reports, the total exchange rate of the NFT sector in 2021 is different. For example, according to a report by blockchain data firm Chainanalysis, the exchange rate of the NFT sector, including NFT games, NFT writing and graphics, will reach $41 billion by 2021. However, new markets, which are only expected to occur in 2021, are already catching up with 2020 products and legacy products, which will reach $50 billion in first-year markets. .At the height of the large trading volume, there are many stars of the crypto art such as Beeple and PAK, so it is important that many people are interested in the trading prospects of NFTs. ~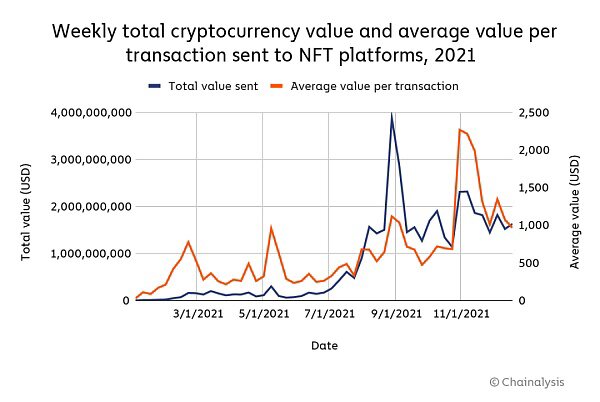 The total cryptocurrency price changes every week on the NFT platform in 2021 and the average price of each trade on one side Image source: Chainanalysis
Ten months have passed and a lot of uncertainties have been raised in my last article on NFT, the art has become a model and a reality. The "pseudo-proposal" features seem insufficient and transparency is now rarely mentioned.After experiencing tens of millions of NFT baptisms (only OpenSea platform data), viewers are finally fed up with the constant "digital trash image", the NFT graphics performance packaging industry has declined, and more than 90% of the performance of Le Web 3.0 is "socially it's dead"., the process of a big wave washing away sand faster than you think. In 2021, more and more current industry participants will enter the crypto NFT art market, but the crypto NFT art industry and the art industry have always had a wide range of different markets. bill from favorite finance tycoons. A community without a deep understanding of crypto art won't know what Discord is, and much of the work was lost before it was released. It is not the difference between the two disciplines that wants to be discussed but does not know how to intervene. If racism and hierarchies existed in the modern art world, they also exist in the crypto art world. The Law of the Forest of Web3.0 will not be blinded by the achievements of the actors in the current version. Managing a community, continuing to learn, engaging and participating are essential. ~

The second half featured artists such as Damien Hirst, Takashi Murakami, Cai Guoqiang, Zhang Huan and many other industry leaders such as Pace Gallery, Sotheby's, Christie's Auction House and more. How do they enter the NFT industry?The achievements of the stars seem to work with NFT professionals in their business strategies.For example, in July 2021, Damien Hirst entered the zone to produce and distribute 10,000 NFT trades called "Fathers" for a unit price of $2,000. All NFTs correspond to the operating system, and before July 2022, the buyer must decide whether to keep the functional body or remove one of the NFT functions. This NFT was advertised at around $120,000 in the mid-range market within 24 hours of release. Currently, the price of OpenSea is still 4 Ethereum (around US$12,000) above the price. Compared to many "broken" NFT encryption technologies, it is quite unique. The reason for this is likely that Hearst didn't finish after 10,000 NFTs were released. At the end of November 2021, the artist suddenly falls all over the bag for another best song, which includes Silver, the sister version of the album cover created for singer Drake. For buyers who still have money, this free gift is very rewarding. Going forward, not only the middle class industry, but the collaboration with musician Drake increased the potential for "newcomers" and "fan tours". There are business people who know more about Drake than Hearst.But how many buyers of 10,000 copies from July this year will choose to ditch the NFT version and keep the hardware? This will be an important test for your confidence in digital art. ~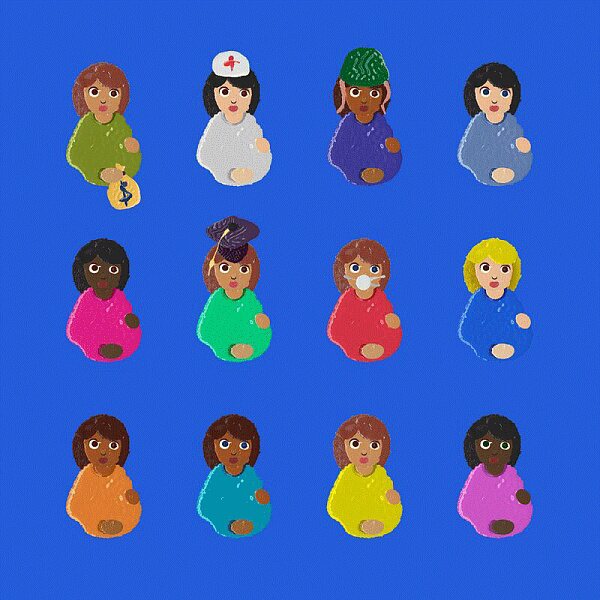 Damien Hirst's 'Great expectation' was dropped in the portfolio containing 'Father'.
Another drawing circle is looking at the subjects of failure. The artist announced the bid of Murakami.flower auction of 108 NFT work on March "worked with highest feeling. It is not a difference. Although they use it involved with Louis Vuitton, the name of Shanglong Towns and Images marked the marker does not move Secta. New work. In this month, shanglong village shanglong cities did not try to another NFT until the November. Shanglong has declared collaboration with RTFKT Studios encrypted tidal cards to get started 20,000 NFT work: Clonx. This is the 3D avatar plan was created by the city-up to create 3D avatar plans. According to December 31, 2021, the volume of these rules been more than $ 100 million. At this time, shanglong cities are a good cooperation involved in the use of food places and more than the owner's home program. The brand was paid attention to the NFT of shoes. In 2020, there is a phone call like the ERON, and for a year, NFT collaboratives in many fields have been added to the virtual button. Such a job will be "nike in the world" receives in Nike in December 2021.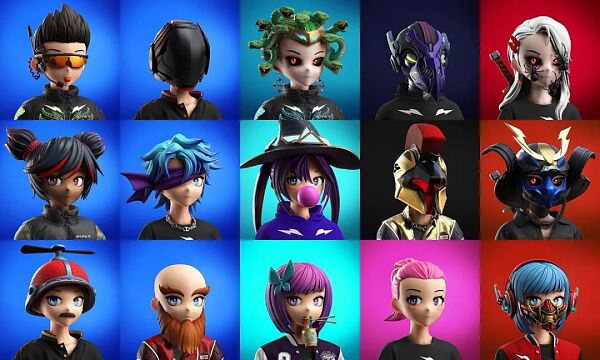 CloneX series launched by Takashi Murakami and crypto fashion brand RTFKT Studios

The unique hands are not a new concept, not a new concept in the consumption, but it is also many functions and gameplay. However, the development of the world of the chosen options did not select the most important choice of world design. However, two-year-old points in the world are 2021 German's UPCOORDary Art Retangrupary Art, Groups and Minorations. Damama Triam, some of the actors are mentioned above, can have many worm, and shanglong losing RTFKT Name RTFKT of a Virtue. In addition to the beliefs of creating artists now, art encryption, we want to attract cooperation with other devices or other artists. It is also a good choice. More, in the second half, the media is not nfty, but more fields, our Meft Encryption Technology has applied to the stars of Volkswagen.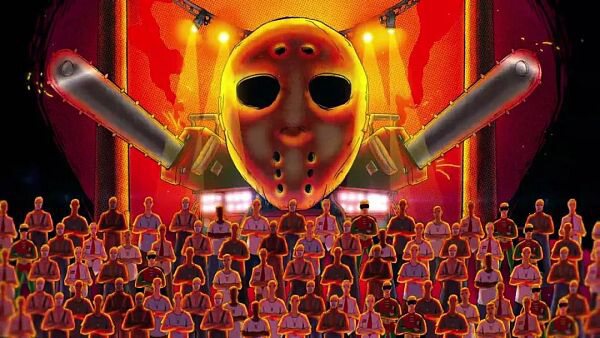 Eminem lance NFT "Shady Con" sur NFT Platform Nifty Gateway le 25 avril 2021

When my last article on the NFT was published, digital artist Beeple's work was sold by Christie's for nearly $70 million and gained wide public recognition. Before writing this article,In December 2021, another digital artist, Pak, created the NFT Drawing Art Contest again. His business "Merge" has sold for nearly $92 million (approximately RMB 584 million) on the NFTty Nifty Gateway trading platform. According to art records, the park superintendent overtook Jeff Koons as the most expensive artist.
The media did not receive much news in the press, Park's work this time may not be a work of art in the strict sense of the word, complex gameplay makes it difficult for many many people involved in the art industry follow the sound. . In this 48-hour tournament, each participant can buy a room (big visual points). Existing Art Pak buyers can pre-purchase for around $299, while new buyers will need to purchase $575 per hour units for $25 per hour. The price has been increased until the auction closes. There is no limit to any units, except the auction time is only used as a node.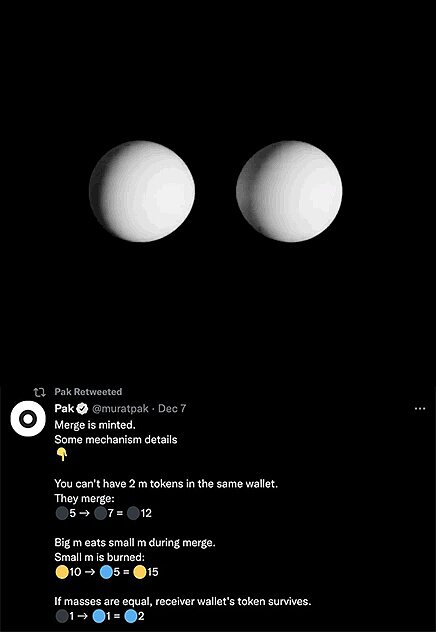 Individual units in each guest's shared room can be grouped into larger rooms.
The platform also announced a support mechanism for "preferred retail businesses". Buy 10 get 1 free, buy 1000 get 300. You can merge all units individually into bigger rooms, which can go from dots to spheres. The more units you assemble, the bigger the ball. Seeing the difficulty of such a game reminds me of the problem of two Taobao shops that Paphisos did a few years ago. You can triple the deposit upfront and enjoy 100% off storewide by layering coupons. What is the lowest price for discount and purchase? What matters is not what you buy, but the excitement and fun of solving math problems and playing for a limited time. In total, more than 28,000 buyers made 266,445 purchases after 48 hours of bidding. When you add up all of each customer's spend, PAK's "Merge" is the most expensive artist business in the world. The good sales of this PAK project are also due to the game concept, which is now receiving a lot of attention in the cryptocurrency market. ~

My first question may be: can you correct Whether it's Google or Baidu, search and blockchain, Chinese NFT-related content has been given ambiguous information.The Securities and Exchange Commission announced on September 24, 2021 that all transactions involving Bitcoin and other virtual currencies are illegal and all illegal digital transactions are prohibited.Since then, all crypto-related activities have shut down in China, and "Lianwen" and "Block Rhythm", the blockchain website that broadcasts the Chinese-speaking world, have been shut down one after another. NFT operations that want to trade in virtual currency also face the need for "exchange" in China. Tencent and Alipay have launched their own NFT operations, but these operations have already eliminated NFT and used the term "digital writing" to weaken the integration of virtual reality. Alipay and Dunhuang Academy of Fine Arts released a Dunhuang art themed NFT skin based on Alipay's own "Pant Chain", and any commercial use and estimation is limited. And "Changan Chain", China's chairman of its own blockchain system, also received state support. Connecting the NFT project to the future publication of Changan Chain and designing NFT is considered a feasibility. Encryption technology with Chinese characteristics. ~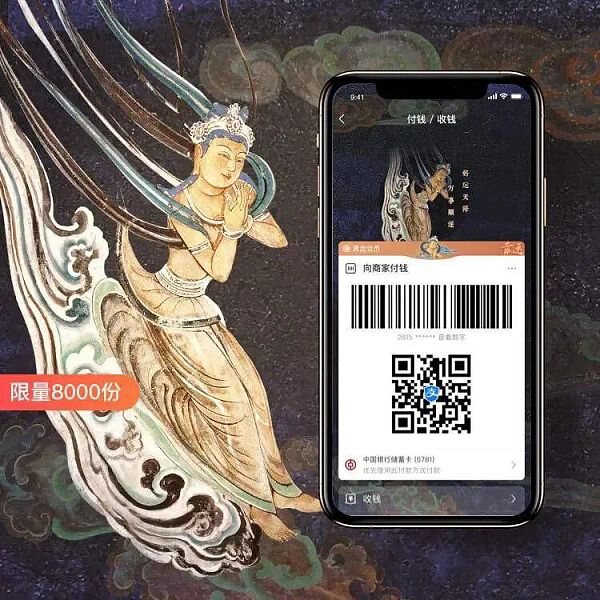 Dunhuang art themed NFT skin released by Alipay and Dunhuang Fine Arts Academy

In my last post, I said that "when the prospect is not good, some artists and art businesses will start using the latest NFT technology". However, the security of assets in the virtual world is reduced.The media reported the decline of NFT assets and wallets. Just a few days ago, New York gallery owner Todd Kramer was robbed and stole $2.2 million worth of NFT wallets. Hackers steal in many ways.In the world of crypto where "code is right" (wall code is legal), these wallets and assets never come back after they're gone.My friends lost their NFT tools, so I went to find how to get them stolen by hackers, and every step of buying digital tools, their keys were stolen from cloud storage. ... How do you know for sure? I remember in the American movie 'War on Terror' someone wanted to explain the importance of secrecy in the workplace, so he had to get a new computer (not connected to the internet), open a document and type all content. After reading the article, the party removed it from the site. Do you need specialized training for the security guard on your NFT assets in an encrypted world with high security and without centralized monitoring?
Scan QR code with WeChat