Pantera Capital: A Year in Cryptocurrency
比推
view

24153
2022-1-19 11:04
Then and Now: Rally 2017 vs. The Rally
Bitcoin has reached the peak of $ 19783.21 for 2017. Since then, all other changes have been changed. Most of the 20 top 20 in Top 20 in 2017 is not available in 2017.
The first big difference is that the 2017 Rally is all about the hype. In mid-2017, the world fell in love with a new coin offering: Initial Coin Offerings (ICOs). They have been around since 2013. Pantera Capital launched Augur, Ethereum's first flagship, in August 2015. The second half of 2017 is the ICO boom. Most of these jobs are unprofitable and huge incomes come into the market. When Bitcoin soared in December 2017, it only had 39% market share, compared to Ethereum's 12%. Ethereum, not Bitcoin, has a 53% market share.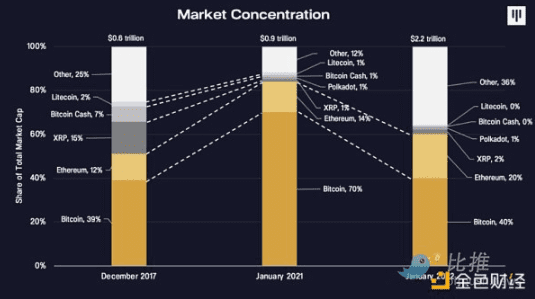 There have been major changes in Bitcoin and Ethereum. Bitcoin's share is almost doubled to 70%, while Ethereum is at 14%. Another 5,000 non-Bitcoin Ethereum chains only account for 16%.
Another major change has occurred with the advent of DeFi (decentralized finance). 40% Bitcoin return. But this time, Ethereum increased its share to 20%. New token combinations such as Solana, Terra Luna, Polkadot, Uniswap and NEAR have proven successful. In total, it holds 40% market share.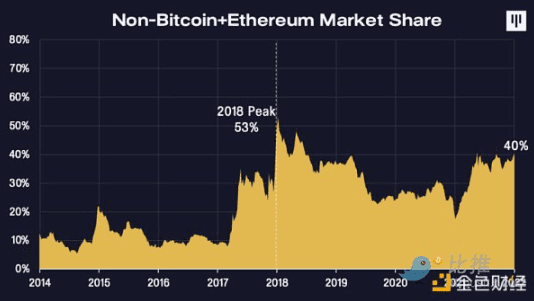 2022 predicted
L2S and ROLL-up: Today, TANFANG's largest critique includes a good deals and related users that do not have a lot of money. Layer 2 System transactions to solve this problem (gradually reduced, reducing the chain) and the combination of chains.
Season 2 has become very popular over the years. Arirum, the solution solution launched in September, has collected more than 50 dApps, including 1inch, Balancer and Coinbase Wallet, raising $2.78 billion in total value locked (TVL) this year. .
As the importance of adopting cryptocurrencies continues, Ethereum's network congestion will only get worse, exacerbating latency and cost issues. Rollups are key to supporting Ethereum's growth by maximizing market share capabilities, allowing users to interact with dApps with seamless expectations, as or better than traditional web applications. Bullish rollups and ZK rollups (smart contracts that aggregate hundreds of companies in a single blockchain industry) will receive more attention in the coming years, while bullish rollups will respectively explain short dominance, while ZK rollups are technically more complex. complex. and can work out long-term scalability solutions.
Chaînes Tsis-Ethereum/Bitcoin :At the start of the year, 97% of total DeFi TVL was affiliated with Ethereum, but today Ethereum only owns 63% of TVL. Competitive layer 1 blockchains have exploded over the past year due to the significant advantages and different uses of Ethereum. In particular, Solana, which has a variable exchange rate, has seen tremendous growth in 2021. Recent activities in the Solana community, including different media coverage and funding are significant for recreation, indicating that the ecosystem will continue to grow next year.
With many updates this year, 2022 has become an important year in many parts of the world. Links that support the integration of different partnerships, such as NEAR's Rainbow Bridge, will facilitate the development of the non-Ethereum ecosystem by expanding resources and streamlining eight to connect digital assets. Ethereum Virtual Machine (EVM) platforms like NEAR's Aurora improve DeFi integration by making it easier than ever to integrate Ethereum-based dApps into other chains. Taken together, the chain link upgrades will accelerate the transition of top-tier chains to increase traction, accelerating the real and chain strength improvement of the crypto ecosystem.
Configurability and Web 3: Web 3 is one of the most popular topics of 2021. The scope of Web 3 is so broad that it can be difficult to identify what you want. Often, however, the term refers to technology that monitors the privacy of user data and/or assets and the sharing of different applications.
2021 is an important year for digital membership. NFT now comprises the $7 billion market and continues to grow as more artists and art consumers seek proof from members of the digital world. In addition to NFTs, digital membership has grown by distributing money through crowds (such as Celo's Kickstarter ads) and decentralized personalized campaigns that allow users to fully and clearly manage their personal information and reputation. In 2022, we will see more and more expansions of channel members, providing comprehensive users and self-management services and assets in the digital world.
In terms of integration, as mentioned earlier, new integration improvements in DeFi allow users to exchange assets across the chain and use the DeFi protocol structure of different blockchains. In addition to DeFi, projects such as login.xyz, which provides access to Ethereum services, show how blockchains typically enable composability of an application, allowing users to control one sign across services. In conclusion, apps and services are looking for tighter integration, and we'd like to see more work on separating how they interact with the site.
NFT d'extension :NFTs are undoubtedly one of the hottest crypto trends of 2021. Digital asset market OpenSea is signaling the wave of NFT adoption, with the market growing from $1 billion to over $10 billion in only three months. Other ventures such as NBA Top Shot and Bored Ape Yacht Club have given NFT a unique platform for pop culture, making "NFT" one of Google's top search terms this year.
Going forward, body art is about $1.7 trillion in real estate. This means that NFTs are just starting to drop. As digital art continues to grow in popularity and body art has become symbolic, NFTs will benefit greatly in the coming years to promote better identification and more liquid market share.
NFTs have also become prominent in other areas such as sports and music. Games like Decentraland and Axie Infinity have highlighted the value of providing game assets based on commercial NFTs. On the music side, projects like Audius and Royal create a framework for fans to directly support the work of their favorite artists and share their success through royal. The NFT project in 2022 will address application diversity and change the way we interact with digital media.
Decentralized Autonomous Bodies:DAOs are also one of the hottest cryptocurrency trends for 2021 and have received a lot of attention for their commitment to being a fair and equitable tool. We've seen DAOs deploy around digital culture sharing (ex. FWB and plesrDAO), crowdfunding and capital distribution (ex. BitDAO and ConstitutionDAO), and even community impact on energy ( KlimaDAO on climate change). As they grow in prominence, we want DAOs to become an essential tool for online organization and collaboration, enabling people around the world to participate in what matters to them.
Platforms like Syndicate simplify the process of creating DAOs for enterprise sharing, while Station allows users to sign up for DAOs. As DAO works hard, we look forward to seeing more DAO construction equipment and projects in 2022.
DeFi Security:Arguably, 2021 will raise more questions about DeFi security than next year. In 2021, more than $610 million was stolen from DeFi crime (eight times $77 million in 2020), and another $74 million was stolen and then returned by free thieves (for example: $600 million by pirates following the PolyNetwork scandal). However, they fixed some of the weaknesses in the DeFi-enabled technology, which could limit DeFi's ability to capture multiple budgets.
Developing multiple processes and tools to allow users to interact with crypto-secured financial products is key to supporting the DeFi exchange. Plans like Forta allow dApps to monitor secure transactions, and Nexus Mutual offers dApp users safe and secure contract protection. However, smart contracts that support DeFi have many, often unclear, drawbacks. In 2022, we expect security to be at the forefront of DeFi operations, with more announcements in the environment for better contract monitoring, monitoring time, and blocked user protection.
Scan QR code with WeChat