One Year of NFT Auctions to the Mainstream: Sotheby's The Road to the Best Home for NFT Auctions
猎云财经
view

17457
2022-1-15 10:16
Sotheby's, a century-old art retailer, said in its 2021 announcement that total sales in 2021 will reach $7.3 billion (about RMB 45.8 billion). Set up a record of more than 200 years of history,Among them, NFT product competition has reached 100 million..
Although not small compared to total sales of $100 million, Sotheby'sThe first NFT auction started in April last year.
Additionally, Sotheby's announced that the release of 'Sotheby's Metaverse' attracted a large following. Over 78% of NFT candidates have visited Sotheby's for the first time,More than half are under 40. How did Sotheby's manage to sell so many "young and promising" rich people?
Today we take a look at Sotheby's "Centenary Brand" and behind the scenes of how NFT auctions work.
Sotheby's changed after contagion
Founded in 1744, Sotheby's is a world-renowned art auction house.First international auction house enters mainland China market, initially focused on the sale of antiquarian books, but has gradually expanded into jewelry, real estate and art, making the market for modern and contemporary Asian art for seven consecutive years.
now until 2020impact of infectious diseases, Sotheby's and brick-and-mortar stores that rely on offline have come to a standstill. Like any other commerce, the auction market is on the way to exchange: online auctions.
The first company was Sotheby's, which came up with a solution using live web and long distance auctions, where the auctioneer only had to communicate with the bidder through an off-radio ad, and the buyer was drawing by phone, internet, writing and drawing. . Unexpectedly,The online competition channel has garnered rave reviews from consumers and competitors and prompted imitation from colleagues..
"The big push to digitize our business last year was the most important decision we made in the last year to meet consumer needs for the best products, with competition for small spaces.Through the development and application of technology, take the bidding to the next level, create new challenges,through the constraints of time and space. "said Cheng Shoukang, CEO of Sotheby's Asia.
In addition, the store has also started broadcasting on the internet by moving online.Generate additional revenue by attracting advertisements from different brands such as Bvlgari and Samsung. Also, according to "Bloomberg", European communications and news outlet Patrick Drahi, who will buy Sotheby's for $3.7 billion in 2019, shortly after news that annual sales rose to a high all the time.Consider Sotheby's Third U.S. List As Soon As 2022.
NFT measurement opens up the world of digital art
On March 12 last year, NFT operated by cryptocurrency artist Beeple sold for $69.34 million at Christie's auction, making Beeple the second most expensive live artist after Jeff Koons and David Hockney.It was also a night to make NFT globally famous, sweep the art world, and jump into visual space, becoming a hot topic in the community..
Christie's painter, Noah Davis, said:Featuring masterpieces created by top digital artists using blockchain technology.."
Also with Christie, Sotheby's saw its colleagues take these steps and began moving quickly to test the waters of the NFT art collection.
afterIn April, the work NFT by anonymous artist Pak sold for $16.8 million.. According to the data, Park is the first crypto NFT artist to earn $1 million from the Ethereum blockchain operation, and was ranked number one on NFT operations late last year.
This competition is far from the price of Christie's Beeple, but Sotheby'sAccess to NFT fields, paved the way for NFT layouts.
On June 30, World Wide Web developer Tim Berners-Lee completed it on Sotheby's for $5.4 million.World Wide Web Source Code "Source Code for WWW" NFTAuction.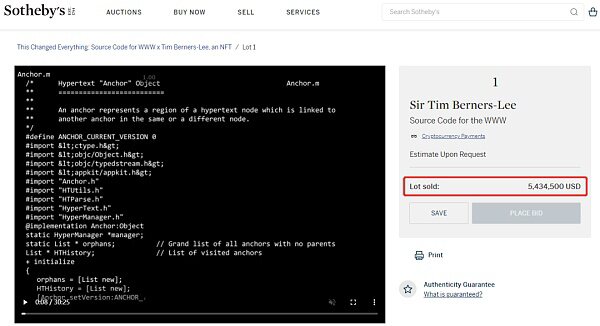 Additionally, NFT held the 21st Century Art Night auction at Christie's, New York on May 14 last year.Cryptopunk sold for $16,962,000, Alien Punk number 7523 sold for $11.8 million on ETH at Sotheby's auction in June, setting a new record for a punk.
Then in November, 101 NFTs operated by Bored Ape Yacht Club sold on Sotheby's, UK, for a record $24.4 million, the largest ever in NFT history. This work was written by 10,000 cartoon monkeys,It is also one of the top 3 NFT companies in the Ethereum NFT market. OpenSea.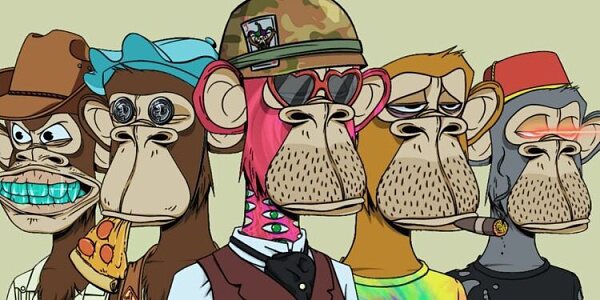 Michael Bhana, current art expert at Sotheby's, says: "More and more art buyers are turning to NFTs. Since mid-November, Sotheby's two-week sales in New York have totaled more than $2.3 billion.The cost of NFT graphics has never been higher and the number of competitors has increased dramatically..
It can be said that the competition from digital devices such as NFTs has started to sail the store ship and has become very popular.
Launch of the Metaverse platform to create an ecosystem
On October 15, Sotheby's announced its own NFT Trading Platform, where visitors can view live artwork from the contest and learn more about the authors and performers behind NFT. .It also allows individuals to buy NFTs with ETH, BTC, USDC or fiat currencies., the platform chosen by Sotheby's.
In addition,Moreover, by posting a special page for 'Sotheby's Metaverse' on a legitimate website, they announced their intention to start a new business under 'Sotheby's Metaverse'., allows Sotheby's to hold the C position at some of the NFT industry's most important events in the future, and may include competitions and artwork.

Regarding the establishment of the NFT and the metaverse, Sebastian Fahey, director of Sotheby's Europe, said:NFTs are now one of the largest and most exciting markets for innovation., Sotheby's is now just digging into the NFT space, but Sotheby's expertise and sophistication will connect to the future digital location art world that exists.
Unlike the establishment of other major manufacturers, Sotheby's has great expertise and work for art because it is an art store with a century-old tradition, and boldly chosen to be the pioneer of the road.Undoubtedly a lot of knowledge about NFTs.
In addition, art sales are an important way for NFTs to break out of the cycle, and the blessings of major manufacturers such as Sotheby's will accelerate the growth of NFTs and other digital arts, including dynamic competition and the functionality of terms above, as well as as requested. recourse to expertise and treatmentThe New Art World of Digital Native.
This is good news for future NFTs and the advancement of art, but with the advent of the digital age, virtualization and digitization have passed.
Hype for Use NFT Rate Change
Sotheby's NFT transmission is required. Since the beginning of last year, when NFT blows at home and abroad, we have been working with domestic and foreign companies such as Facebook, Nvidia, Tencent and ByteDance.Celebrities such as drummer Ramello Ball and the famous singer Lindsay took part..
Meanwhile, NFT is constantly working on entertainment, movies and entertainment, and more recently, Wong Kar-Wai announced the first unreleased movies on the release day of 'When I Love You' for NFT and SM. The world's "big" Korean idols have announced their entry into the NFT.
Additionally, the emergence of competitive sports and metaverse content in addition to fuel, makes NFTs a significant source of revenue and cost.Take Decentraland as an example., each land in the game corresponds to the NFT, and the owner of each NFT represents the owners of that land.
As a result, more and more entrepreneurs and ordinary people have come to the NFT market.
The uniqueness and uniqueness of NFTs is that "everything can be NFT" can provide all the benefits of a chain, such as law, art, architecture, etc. .
Since the beginning of the year until today, NT has become more mature,More recently, it has been considered the home of Web3 and the Metaverse..
According to statistics, the weekly NFT market share of three major brands, Nike, Adidas and Pepsi, has exceeded 200 million dollars, and online sales have increased steadily.So far, it has a market capitalization of around $10.3 billion..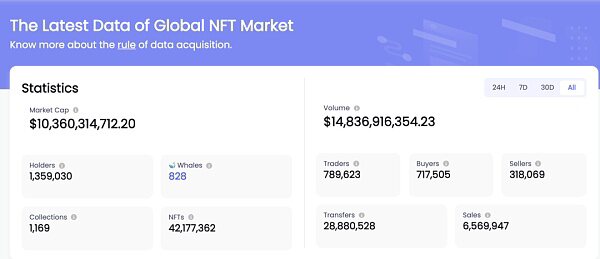 photo source: nftgo
Nansen CEO Alex Svanevik said that DeFi is bringing capital into the crypto space and NFTs are bringing people into the crypto space. It is true that the explosion of NFTs this year has attracted more and more people to the crypto space, which is a big step towards improving the crypto industry.The big industry using NFTs could explode everywhere in the near future..
Contents
However, for many people it is important to keep the following in mind:The risk of buying NFTs is still very high., some works of art usually get stuck in your hand when you buy them, so you have to look at them carefully.
Taking the example of house auctions, many real estate professionals understand the art, but their understanding of the blockchain and cryptocurrency industry is limited.We must have the courage to try and be patient..
Scan QR code with WeChat