LOOKSRARE: First sector of NFT marketing just started, much fuller than Opensea
链茶馆
view

46636
2022-1-14 14:59
LOOKSRARE, NFT's new market share just started the day before, surpasses NFT's older brother, Opensea, with more than twice the volume of the packaging industry, in the overall packaging market at $320 lab.
LOOKSRARE is an Ethereum-based, community-driven NFT industry. The exterior is bound to compete with its predecessor Opensea.
LOOKSRARE seems to give a high community attitude, but on the other hand, LOOKSRARE words like "NFT people, for NFT people", like leaving NFT audience and going to NFT people.
On the other hand, it should be noted that compared to Opensea, the NFT brand.
The main differences between LOOKSRARE and Opensea are:
LOOKSRARE charges 2% per transaction while OpenSea charges 2.5%.
Fees collected by LOOKSRARE will be used to hold prizes in LOOKS tokens, and Opensea will use all fees to manage the group.
LOOKSRARE developers profit as soon as they sell their work, while Opensea takes up to two weeks.
LOOKSRARE not only supports ETH for business, but also wETH (you can use ETH wrapper directly for business in dapps), but Opensea only supports ETH.
Overall, everything looks more like a community than Opensea, worthy of the phrase "from the NFT people to the NFT people".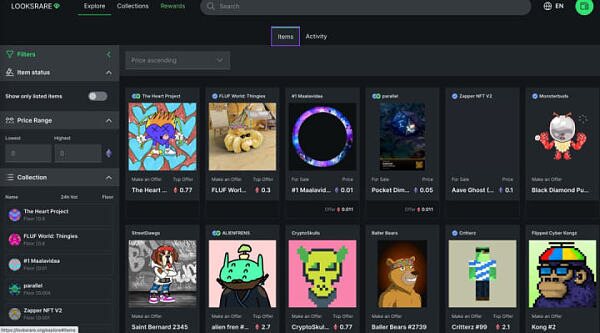 Why are there so many businesses to start with?
realization
This month Opensea set the record straight for the Ethereum NFT monthly packaging industry, but LOOKSRARE made it tough.
As mentioned earlier, in the early days of LOOKSRARE (e.g. yesterday), daily sales were $320 million, double the opening hours, and this pattern has continued yesterday and today ( 5:00 p.m.) on January 13. ), up to $500 million yesterday.

Lead to analysis
The dazzling volume is supported by:
Airdrop Gifts:
Lux Rare is offering free LOOKS token airdrop to OpenSea customers for at least 3 ETH (~ $ 9,630 until today) on the market from June 16 to December 16, 2021.
This method is called the vampire attack, and Sushiswap used it in 2020 to try to steal users from another platform by encouraging users to form tokens, on Uniswap all at once.
Judging by the current results, the launch of LookRare is a success.
There are a total of 87,459 wallet slots that receive a drop, representing 47.22% of the total wallet.
Drag offers:
The concept of brush business is not easy to understand. In other words, the trader manipulates the market and acts as a counterparty for both sides of the trade. This is very common in decentralized and centralized exchanges, and there is even a statement that 70% of the trading volume is traded.
The LookRare token distributes to support the development of the scanning industry. The current system is rewarding buyers and sellers with 2,866,500 LOOKS tokens (over $10 million) per day according to the packaging industry and will continue to do so for the next 30 days. Gradually reduce emissions.
From the left pocket to the right pocket, LOOKS has arrived!
pier sheet
On January 9, around 9:00 p.m. Beijing time, the OpenSea service was down and some users could not open the page or it was too slow.
This is not the first time that an incident has occurred in OpenSea, and although one employee said he plans to hire more network administrators to avoid downtime, user dissatisfaction accumulates for a long time.
Moreover, the OpenC platform ratio of 2.5% is entirely due to a team that has long been criticized by its peers in the field of crypto.
Lux Rare's release time is on schedule.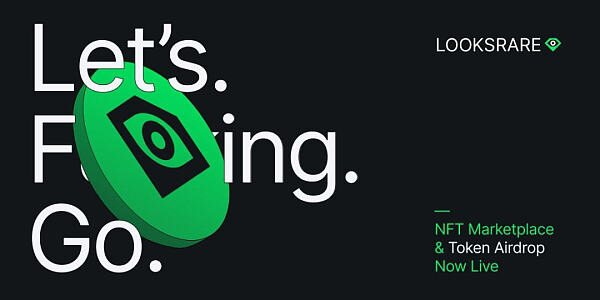 token pattern
LOOKSRARE tokens are LOOKS, and the total tokens are 1,000,000,000, and the special distributions are shown in the table below.
concludes
Currently, LOOKSRARE is doing very well, but an analysis of the causes of the packaging still raises the question of the duration of this temperature.
Finally, the market for daily support tokens is reviewed, and this type of token recovery will inevitably be reduced due to less distribution of gifts to all.
Scan QR code with WeChat