WSJ: Turks run out of crack when they can switch to Bitcoin and Tether
比推
view

45641
2022-1-13 10:39
According to an article published today in the Wall Street Journal, cryptocurrencies are gaining ground in Turkey and some developing countries, which has resulted in a lack of confidence in government policies. The Turkish lira is so capricious that the Turks have abandoned their local currency in favor of a risky asset, cryptocurrency.
According to blockchain analytics firm Chainalysis, the lira fell against the US dollar in the fourth quarter of 2021, while cryptocurrency trading volume used the lira on our exchanges for an average of 1.8 billion. dollars per day. That volume is still low compared to the 2019 Global Banking Conference (BIS), which saw around $71 billion worth of pounds traded daily, but more than quarterly in five years.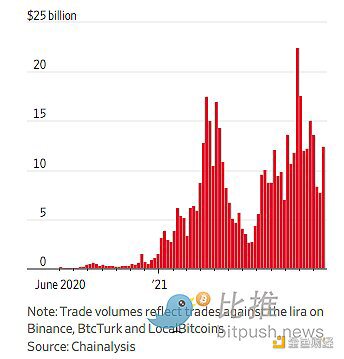 The letter indicates that Turks particularly like the stable tether pegged to the dollar.
The Turks have endured extreme turmoil holding their money in silver, euros or gold. The rise of cryptocurrencies in recent years has given way to new procedures for storing money despite greater volatility. The lira has fallen 40% against the dollar since September. Bitcoin started at almost 40% against the US dollar until November, but is now down more than 10%.
In Istanbul, Turkey's largest city and commercial capital, advertising for cryptocurrency exchanges has taken place on trams, billboards and airports. Bitcoin stores have appeared in the Grand Bazaar.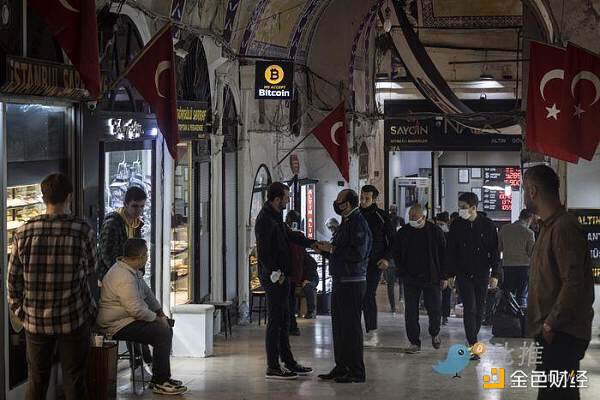 Last fall, Turkish President Recep Tayyip Erdogan disrupted the country's economy by pushing for more cuts amid rising inflation. Results have been stable in recent weeks after the government raised savings, but Turkish residents remain cautious.
Kağan Şenay, a 27-year-old trader in Bursa, northwestern Turkey, said: "Financial asset volatility. "
Ayenay said he started trading bitcoin in 2017 to raise more money. He also sees it as a way to protect his income in pounds against inflation.
Turks adopted the cryptocurrency last year despite restrictions on its use as a form of payment. Turan Sert, advisor to Turkish cryptocurrency exchange Paribu, said the ban, announced without warning, "has taken its toll on the Turkish cryptocurrency community."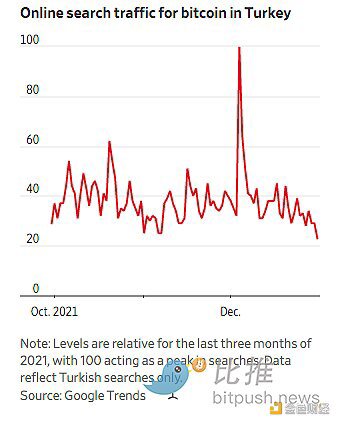 Cryptocurrencies have benefited in Turkey and some developed countries from a lack of confidence in the government's monetary policy. After investments and strict controls on access to foreign currencies, Nigerians are using Bitcoin for payments. El Salvador became the first country to recognize Bitcoin as a lucrative currency last year after pegging its market to the U.S. dollar for 20 years.
In Turkey, some skepticism has gone beyond the lira. Two-thirds of Turkish bank deposits are in foreign currencies, mainly dollars and euros. Turkish banks lent some of this money to central banks and governments, which interfered in foreign trade to control the lira, but without success.
In order to quickly withdraw dollars, Turkish banks had to withdraw money to meet depositors' needs, and the government's access to these funds was questionable. In the worst-case scenario, some fear that the government will force banks to exchange their deposits into lira.
According to some Turkish depositors, this has led some to exchange bank US dollars for stablecoins, cryptocurrencies whose prices are pegged to traditional currency such as the US dollar. Chainalysis said in December that more than half of the reading industry was involved.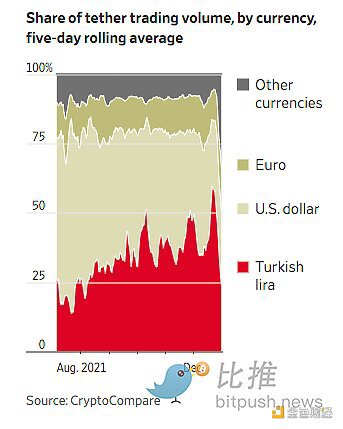 Stable coins like Tether are also used as gateways for trading weak coins like Bitcoin and Ethereum. Esra Alpay, head of marketing for Turkish cryptocurrency exchange Bitlo, said new traders rose in the last quarter due to the depreciation of the pound.
He said: "The volatility of the Turkish Lira and the appreciation of the currency in recent months has led investors to view cryptocurrencies as a viable long-term investment and to hedge against short-term inflation." , did he declare.
Ege Tuluay, 24, is a sailing student. He went to the Grand Bazaar cryptocurrency store, Caspicoin, and checked the price to buy Tether with his savings. He plans to use Tether to buy other cryptocurrencies.
"Cryptocurrency gives Turks confidence and looks like easy money for Turks," he said.
Scan QR code with WeChat