Has Ethereum fallen on the altar? But is Solana ready for "success"?
金色财经
view

45292
2022-1-15 10:24
On Thursday, Jan. 13, "Break That" champ Tyson announced on his own social media platform that he wanted to "go with Solana." Additionally, Bank of America has the potential to become the "visa of the digital ecosystem" with the many apps Solana can offer consumers in its new research report, sparking controversy in the community. So can Solana become the "new ruler" of digital assets and win Ethereum? We'll take a look.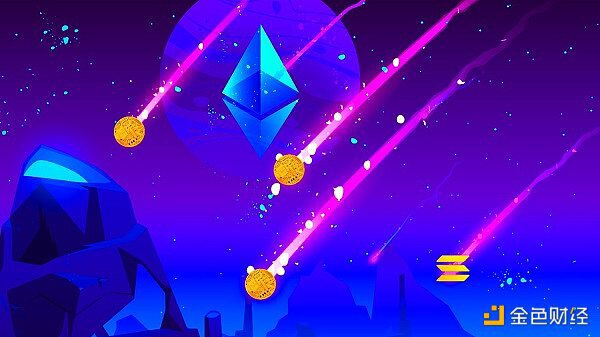 Why did Ethereum lose control?
Ethereum could quickly lose control of its DeFi site, according to a report from analysts at JP Morgan. There is no doubt that Ethereum will continue to play a key role in the DeFi venue, but that could change as soon as JPMorgan analysts point out that management of Ethereum in this space will no longer be.
Analysts say the rise of smart card builders such as Terra, Avalanche, and Solana has challenged Ethereum's incredible leader in DeFi. It turns out that these first actions destroyed the Ethereum administration and could have a greater impact in the new year.
Ethereum's market share on the DeFi Total Cost Lock (TVL) site was close to 100% as early as 2021. However, this number fell to around 65% by the end of the same years. According to Nikolaos Panigirtzoglou, chief analyst at JPMorgan, the main reason for the loss of Ethereum infrastructure could be related to the scalability of the network.
There have been warnings that Ethereum should be measured and changed if it is still under control, but it is too late to do so now. Nicolas Panigittezogro says:
He added, "Ethereum is currently in a tough race to maintain control, and the outcome of that race is uncertain."
Some independent blockchains, such as Terra, Avalanche, and Solana, use various incentives to promote their platforms and receive significant income from investors based on the value of their investment. Looking at the superficial number of changes per second that the DeFi-enabled blockchain can achieve, Ethereum is way beyond its competitors.
According to one dataset, Ethereum can perform 15 to 45 conversions per second (TPS), while some competitors like Terra and Solana can perform 1,000 and 50,000 conversions respectively.
The Ethereum blockchain also has a common problem: high fuel prices. Although the modified EIP-1559 solves this problem, competitors like Solana still have lower costs.
Accordingly, JP Morgan analysts have identified the above situations and come to the following conclusions. Even if the Ethereum network completes its further expansion, it is likely not to return to its peak, as users have moved to another network. The hostile ecosystem has disappeared.
What are Solana's strengths and weaknesses?
In particular, Bank of America, in a recent research report, indicated that the Avalanche smart platform deal could be strengthened while managing security and distribution, giving Ethereum a DeFi protocol, NFTs and other activities. According to data provided by DeFiLlama, the fixed volume (TVL) of the Avalanche blockchain project has grown to over $11 billion since then. The Solana blockchain has attracted hundreds of application applications and is gaining momentum in the fast-paced industry.
As such, Bank of America awarded the world's best cryptocurrency companies, compared to Visa and Solana, the world's largest debit card companies.
Alkesh Shah, global cryptocurrency and digital asset expert at Bank of America, wrote in a research paper published Tuesday that Solana could become a visa for the digital heritage ecosystem. . "Alkesh Shah said that there are more than 400 fair applications of the Solana blockchain, including all kinds of peer-to-peer applications for the NFT industry. At the same time, he wrote:
"Ethereum has the potential to own blockchain for personal, storage and connected products, as well as a profitable business."
Cryptocurrency proponents have long liked to compare blockchains to single-mode transactions (TPS) on credit card networks. In theory, Visa can do a minimum of 24,000 GST, but in practice its average is 1,700 GST. The Ethereum TPS value is usually 15. Considering that decentralized applications run "on-chain", this speed is not high. And due to the small size, the network exchange rate is usually in the double digits (USD). ~
A lot of work has been done to address Ethereum's scalability issues, including Polygon's sidechain and Arbitrum rollout, but network congestion won't be easy until Ethereum 2.0 is fully rolled out. . Ethereum developer Vitalik Buterin claimed that the conversion speed of the Ethereum network will reach 100,000 TPS by June 2020.
In terms of speed trading, Solana outperforms Ethereum and Visa with a theoretical limit of 65,000 TPS.
However, the above comparison of Bank of America cannot be made.
Arkesh Shah also wrote in the report:
"Solana does more than just add capacity when there are weaknesses in delivery and security, as evidenced by the many network performance issues since its inception."
Alkesh Shah mentioned the network shutdown last September and some other minor issues that seemed to open up another network. Alkesh Shah talked about Avalanche with Ethereum after the upgrade, and he thinks he saw the equivalent of an Ethereum security model and a Solana rapid change model. finance and economy.
However, Alkesh Shah adds that there is no need for a blockchain (except Bitcoin) to be able to do everything, and each blockchain has its own application of the conditions that suit it best. He said of Solana:
"Solana's superior performance, low cost, and ease of use make it affordable for users of devices such as micropayments, DeFi, NFT, decentralized web (Web3), and gaming."
Over time, user adoption and development preferences may drive Solana and other blockchains to the forefront of Ethereum commercialization. How long will this period last? Let's wait.
Scan QR code with WeChat